Tired of all the sites wondering if you want to allow their annoying notifications? Two giant browsers, Chrome and Firefox, are planning to make your life easier by hiding these annoying notifications.
Few years ago, developers added a new feature that allowed websites to display notifications for new articles, even when you do not have their site open in any tabs. This requires permission though, which most sites usually requests with a small popup dialog.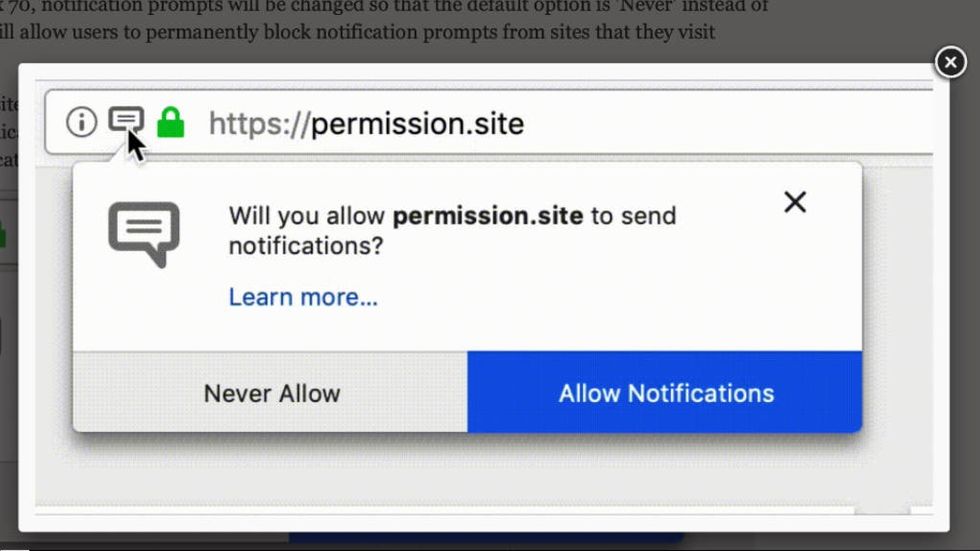 The problem is that these notification prompts have become so common that very few people even acknowledge them and those that do, almost always decline the request. What is worse is that number of spammers of various kinds have begun to deceive visitors into approving notices and then spamming them with advertisements for porn and other links to malicious programs.
This is why both Firefox and Chrome will soon begin to hide these notification promps.
According to a research done by Mozilla, Firefox has shown 1.45 billion prompts in one single month and only 23.66 million visitors accepted notifications,  500 million actively declined it (by pressing "no thanks") and the rest ignored the prompt.
Starting with Firefox 72, the prompts will be hidden behind a small speech bubble to the left of the padlock in the address bar. Chrome 79 will display the text "notifications blocked" to the right of the address bar.
Both browsers already have a setting to completely turn off the feature, but the new feature mean that those who actually want notices on a small selection of websites can have it but turn off all popups on other sites.